Popular topics
There is no one standard group every tour is unique. But generally people that undertake our tours are a fun, friendly and adventurous lot with one key similarity - they love cycling!! We have people of all ages (teens through to mid 70's) and all walks of life which makes for an interesting and diverse group of fellow participants.
Groups tend to be split 50:50 between those traveling alone or part of a group be it pairs of friends/couples/family or occasionally larger ones of 3-4. We try and limit our group size to a maximum of 18 people which we think works best, providing plenty of people to socialise with during the day and evening, but also enables people to find some quiet time too.
At Pedal Britain we want to ensure you receive the highest level of support possible whilst you are on one of our tours.
To this end we will normally run a tour with a minimum of 10 people, but unlike other operators we limit the group size to a maximum of 18 people. We feel this ensures there is always enough people to be social, but not too many for it to feel overcrowded and your just part of a herd.
Pedal Britain tours are designed to attract people of all ages and levels of fitness.
To help you assess if a ride is suitable we have added a 'Cycling Level' indicator on each tour. Obviously the more training you do beforehand it will increase the overall enjoyment of any tour as you'll be more prepared.
Pedal Britain has a range of 'Training Support Resources' including a free consultation and a blog about Training Plans within which you'll find some great tips and an easy to follow framework that can be adapted for any of our tours.
We do not issue 'standard' training plans, everyone starts at different levels of experience, fitness and available time. For those confident enough, all you do is adjust our framework to suit your own needs.
However to provide another level of support, we have created with Pedal Britain guide Grant Goodman (qualified cycling coach) also of cyclingfitness.co.uk several coaching packages from Basic to Premium. You can find links to these and all our training information here: Training Resource
Pedal Britain provides mechanical support in form of basic adjustments, or simple repairs, while your guide will also carry a reasonable tool kit to help with any minor problems on the road - the van has a more comprehensive set.
However it is essential that you are able to fix a puncture. Obviously if the guide, fellow riders or van are nearby they will assist but it maybe that the van is tied up elsewhere therefore you don't want to be unnecessarily held up waiting.
Essential kit to carry at all times for puncture repair
It is advisable to carry on your bike at least 1 or 2 spare inner tubes, a mini pump / Co2 gas pressure pump, tyre levers and multi-tool with you each day. This essential kit can be kept either in a small rucksack that you carry or in a medium sized saddlebag.
We also ask that you take care of basic bike maintenance. Firstly having a comprehensive bike service before you arrive on the tour, then by inspecting your bike daily to ensure its in proper working order.
A work stand, track pumps, chain lubricant and cleaning materials will be available for your use on the van.
The support vehicle will carry a limited number of universal spares that are provided at cost should they be required. If your bike has any obscure or unusual parts that may not be readily available at a bike shop it is highly recommended that you bring your own set of spares with you that can be carried on the support vehicle.
We will carry a spare bike and wheel so that you can keep moving if you do have any serious bike problems.
Whilst Pedal Britain will endeavour to fix your bike issues, any major repairs will have to be co-ordinated through a local bike shop on the road, with any cost for these repairs being your responsibility.
Every member of the group is provided with our detailed route instructions, so you can ride at your own pace and stop whenever you want without the worry of getting lost.
After breakfast the tour leader will go over the day's route, provide the mileage for lunch/brew stops or 'Magic Numbers' as we like to call them and suggest a few places of interest you may like to visit. Obviously there are some fixed points in the day such as lunch and brew stops, but so long as you tell us what your plans are these are not obligatory and you can make your own arrangements.
In practice most people find they team up with other group members of a similar ability very early on, and so ride with a small group most of the time.
That is completely up to you. It is your holiday and so we encourage you to ride at your own pace. The average touring cyclist will normally travel at 10-13mph. What we find is naturally 2-3 groups form and you'll always find one that suits your pace.
Some people get concerned by always being at the back as they feel anxious about holding everyone up, believe us you are not!! However if that mentally becomes an issue then you can always set off 30 minutes ahead of the pack. But we will never ask you to pedal faster.
No one on a Pedal Britain tour gets left behind as our guides for the most part ride at the back, especially at the end of a day to provide encouragement and support.
Lunches are generally at either just before or after the halfway point of a day in terms of milage. They consist of various combinations of soup, sandwiches, crisps/chips, savouries, coffee/tea/soft drinks and cake, served as rolling buffets or set meals hosted in either local cafes / pubs.
Occasionally, depending on the weather, Pedal Britain's pop up cafe will provide a substantial picnic buffet lunch in a suitably scenic location en-route. Don't worry if your cycling slowly we always make sure there is enough food for everyone at picnics and never leave until everyone is fed and watered.
Whilst evening meals are not included in the cost of the holiday, Pedal Britain will make reservations between 7.30-8.00pm most days for a group evening meal, so you don't have to worry.
Also to make life even easier for you we'll sometimes take pre-orders for the evenings food in advance. We find this just helps speed things up at service to maximise your recovery time.
We tend to eat at the accommodation we are staying in that evening although we do occasionally use other local options. These meals provide a great opportunity for socialising together and swapping tales of the days events, further developing the group bonds.
However attendance is purely optional. If you prefer to eat earlier, or alone or wanted to find somewhere else, your Tour Guide can provide alternatives its no problem at all it is your decision.
On longer tours where we are staying in major towns/cities we also have several what we call 'free evenings' where we do not book anything for the group - which allows you to explore local options with smaller groups of new your new cycling buddies.
With all evening meals individuals are responsible for settling their own food and drink bills once finished.
Yes, you can join any of our tours and use that challenge as a way of raising funds for any cause of your choice.
Sometimes we are asked "Can a Charity Sponsor my Ride by paying for the Tour?" again no problem. We just raise an invoice and send that for payment to the charity. Any other financial agreements such as on minimum fundraising targets are between you and the charity.
We can also if there is enough interest work either with a group of likeminded people wanting to raise money for a specific charity or with the charity itself to create a bespoke cycling event just for that purpose.
Yes we do, if you have 8 participants or more able to book at the same time then you'll be eligible for a 5% discount (up to maximum of £100 per person)
If you all live close together then we can also work out a deal for our 'Bike Transfer Service' which could save you up to 50% per person for this service.
We take great pride in the level of support we give to riders on our cycling tours and is a key part of the 'The Pedal Britain Difference'.
That is why we are 5* rated on Trustpilot with many of the reviews specifically mentioning the excellent back up support we provide. You can read extracts of these on our Pedal Britain Testimonials page.
All our trips are led by at least one or two experienced leaders from the UK – one driving the support vehicle and the other cycling with the group, usually at the rear to ensure that no one gets left behind. They carry a first aid kit and a tool kit, so that if you or your bike breaks down they will if possible be there to help.
The Pedal Britain support vehicle doesn't follow the group very closely. It's main function is to once/twice a day provide the our famous 'Brew Stops', carry luggage between accommodation or if you have a problem you can jump onboard. You will also have access to the van at our lunch stop.
Also be comforted in the knowledge that the team at Pedal Britain HQ are also with you as an invisible hand, making sure everything is running smoothly.
To remain social it's advisable that on our longer tours you wash your kit out regularly - that includes shorts - a key factor in preventing sore bottoms!!
What most people do is take with them several days worth of cycling kit to rotate through and a small bottle of liquid clothes detergent. Then as part of their daily routine use facilities in the room to wash and dry kit as many have heated towel rails.
If not fully dry the next day roll kit up tightly into a towel or hang up in back of the support van to ensure you have clean kit ready for following day.
Some accommodations do offer limited laundry services (usually just drying kit) either for a small fee or usually free, ready for collection the following morning. Your tour guide will let you know which places on your tour provide this.
Alternatively if time prevails you can use local launderettes to wash and dry clothes - your tour guide will help locate these for you.
For LEJOG we do recommend you use a road, touring or hybrid bike with a minimum of 25mm good quality tyres. But it's entirely up to you what type of bike you use, so long as it's in good working order. It's definitely worth putting bike in for a full service before the trip.
Key thing is your comfortable, have trained with it or something similar and you're confident that on it you will get to the end.
Please bring what you need to make your holiday relaxing and comfortable. We do request that you limit this to one item of luggage per person and that this is clearly labelled. Also where possible please try and keep one bag to between 15kg-18kg.
We also recommend you bring a ruck sack that can be left in the support vehicle as a 'day bag' to hold sun cream, waterproofs, extra gels etc. This helps limit what you carry and will be accessible at every break.
We want your holiday to be as hassle free as possible. So for you comfort we transfer your luggage each day to the next accommodation.
All we ask is that on setting out each morning you leave your fully labeled luggage and day bags in the reception or at the rear of the support van. Don't worry we'll provide you with labels.
Pedal Britain has public liability insurance cover for all of our tours.
However we strongly recommend you take out adequate insurance to cover yourself against personal accident, loss of belongings and cancellation cover.
Yellow Jersey Insurance are one company that other clients have used previously. Worth checking first what might be covered under various other policies you may have such as household and travel insurance, then plug any gaps with a specific policy.
Once you're signed up Pedal Britain will send you a detailed 'Kit List' of what you should bring along, however do feel free to contact us if you would like a copy sending to you or have any specific questions .
Customer testimonals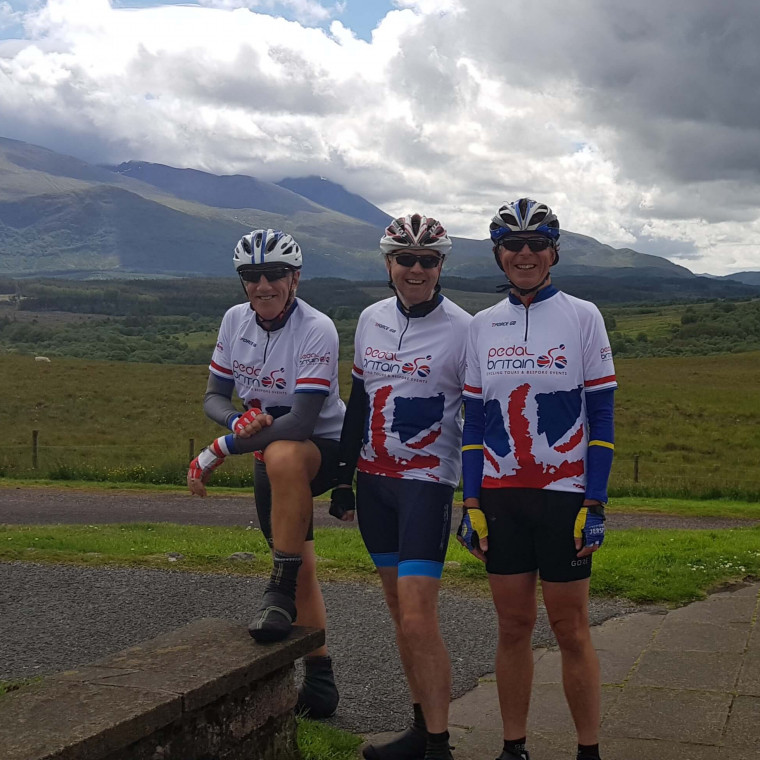 "The route took me to places I'd never been too, taking in the country lanes and using cycle routes to avoid main roads. I thought it was excellent. This tour far exceeded my expectations. The whole group gelled together and the team couldn't have been more supportive and encouraging"

Jersey Boys (June 2019)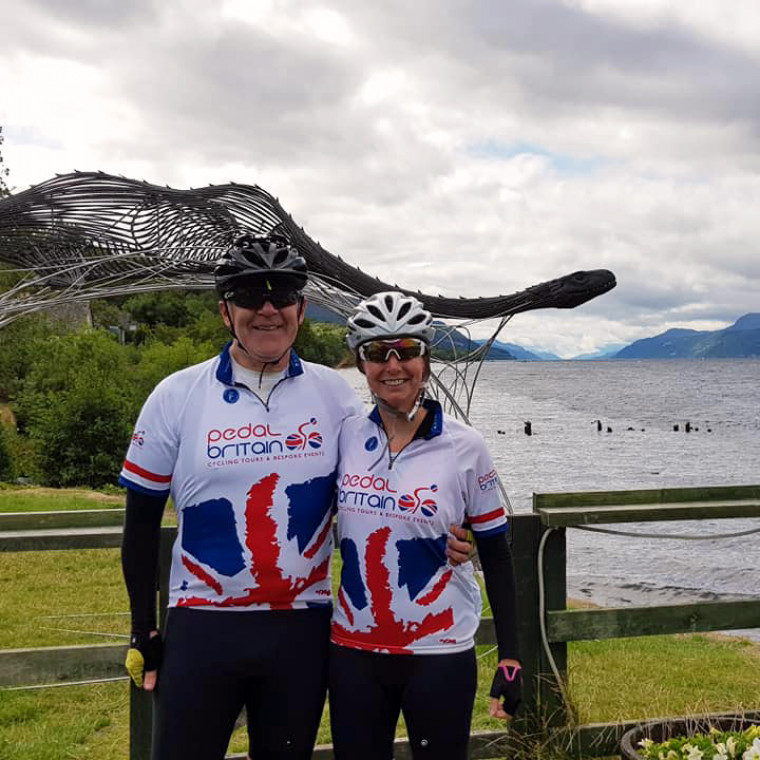 LEJOG with Pedal Britain has been an amazing experience. Both concerned that as relatively new cyclists we may struggle to complete the tour. Darren and Paul put us at ease and supported us all the way. An absolutely brilliant two weeks. I would definitely recommend Pedal Britain to anyone considering this adventure.

Dave & Sharon (July 2018)